In a previous blog post, we talked about how we're beginning to operationalize the Tower Foundation's emerging focus on diversity, equity, and inclusion (DEI). One of the early steps we've taken is to get a better sense of the organizations we're working with: how many are led (board and/or executive leadership), staffed, and serving people of color? When we look back a year or more from now to get a sense of whether or not we're making progress, we need baseline data. We probably should have been doing this all along. As the proverb goes, "The best time to plant a tree was 20 years ago. The second best time is now." (We also know that we need to tend to our own house and share information about our own board, leadership, and staff composition.)
As we've shared previously, we got started by adding some questions to our grant applications about race and ethnicity among senior leaders, boards of directors, staff, and the people served by organizations applying to us for grants. We took our new race/ethnicity form out for a spin with our 2020 COVID-19 response grants. That went well enough. We didn't hear any complaints from applicants about filling out the form, and we learned a lot about organizations with our open-ended question, "What additional information about your organization's diversity and inclusion practices would you like to share?"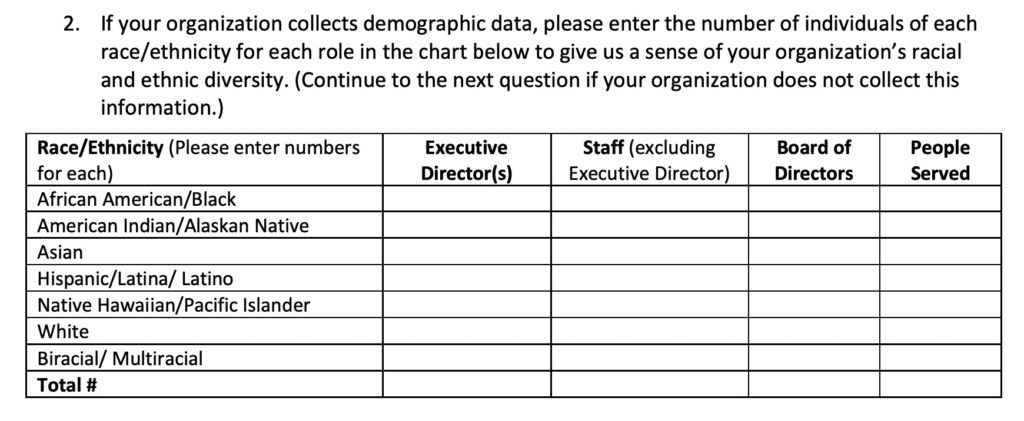 With a couple of rounds of experience under our belts from using them on our COVID-19 response grant application, we added these questions to our regular grant applications. That's when things got interesting.
We fielded quite a few requests in our April 2021 grant cycle (76, if you're wondering), which we expected since it was our first round of "regular" grants since we put everything on hold for COVID relief last March. Two applicants that serve large numbers of immigrants and refugees from the Middle East kindly pointed out in their responses to our open-ended question that our race/ethnicity categories were incomplete, forcing them to classify many of the people they serve as white or omit them from their data entirely. We were grateful to have that oversight pointed out to us, and told both applicants as much on subsequent phone calls.
Naturally, we've amended our questions to include a Middle Eastern-North African category. (As an aside: I am a lapsed social demographer, so I am mortified that I wasn't aware of the controversies surrounding the movement to include a Middle Eastern-North African category on the decennial Census.)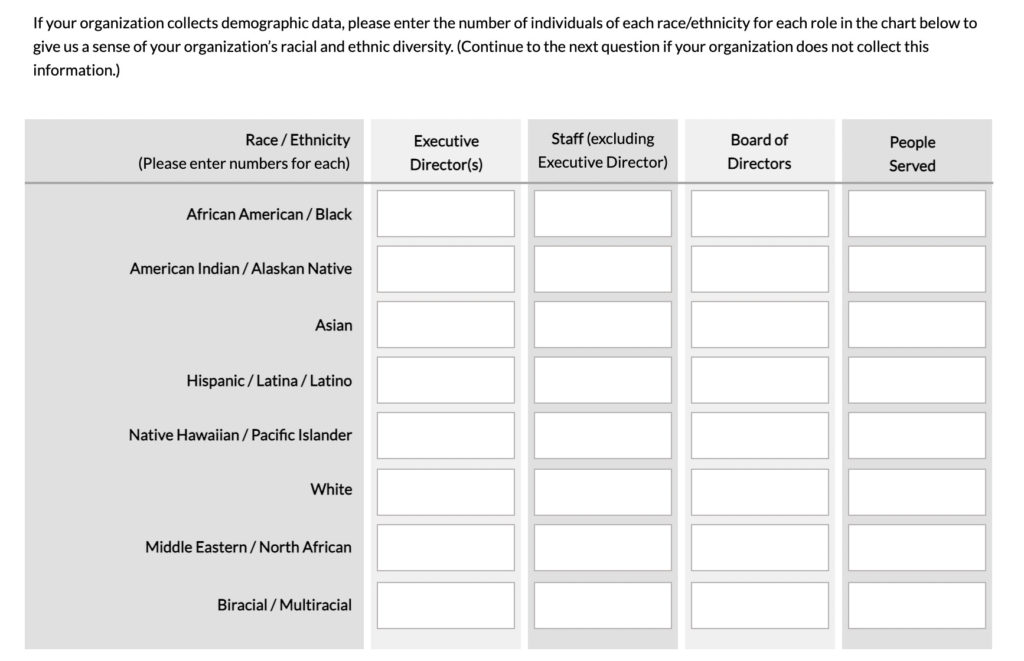 Were we embarrassed by our oversight? Yes. Is it going to slow us down? Not a bit. We're learning, and even the smallest steps can help us uncover blind spots and challenge us to do better. Challenge accepted.
Photo by Eila Lifflander on Unsplash