A former beauty school in Buffalo is now a lively gathering place for people with Down syndrome and their families. The spacious, welcoming site is GiGi's Playhouse Buffalo, a local organization connected to the GiGi's Playhouse national network of 51 Down syndrome Achievement Centers.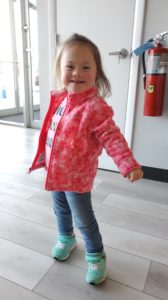 Renovations to the space were complete and Executive Director Emily Mondschein was eager to open the doors in mid-March of 2020. But COVID-19 quarantine restrictions delayed the opening until summer. In August, GiGi's Playhouse made up for lost time, launching nine programs for families, with many filled to capacity. Following COVID protocols, GiGi's could accommodate as many as 15 masked, socially distanced families at a time given its large space. Programs included music and sign language classes, science-based activities, general fitness, yoga, literacy tutoring, and a social club for teens and adults. GiGi's plans to offer nutrition and cooking programming later in 2021.
A strong group of volunteers made the breadth of programming possible. According to
Mondschein, the center is 95 percent volunteer-run. "The volunteers have been fantastic, from licensed physical therapists who run the fitness program to teens that come after school — our volunteers made our strong launch happen."
Mondschein, who is a parent of a child with Down syndrome, resolved to bring GiGi's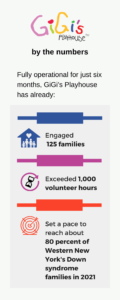 Playhouse to Buffalo to counter the biases and negative narratives associated with Down syndrome. "As an expectant mother and new parent, I heard how difficult life would be. And when you look for information, negative stories outweigh good ones by two to one."
GiGi's Playhouse used its space creatively during the COVID-19 pandemic, supporting virtual learning needs of students with Down syndrome and providing space for earlier intervention therapists to work with students outside of the home.
Once programming allows for more people on site, Mondschein wants to involve more teens and their families in GiGi's programming. "Young people need engagement opportunities when they leave school. We would like to provide some continuity of service and support for families during this transition." Programs like an onsite cafe, and offering internship and workforce readiness programming, will help bridge this transition period.
A second wave of COVID-19 restrictions forced suspension of programs in late 2020, though some — like the popular GiGiFit — shifted to online formats. GiGi's Playhouse reopened in February 2021 with cleaning and safety protocols from the national organization. The rapidly changing protocols in response to this pandemic have been a challenge for Emily and her team, but not one that has slowed them down.
During GiGi's start-up period, the Peter & Elizabeth Tower Foundation provided grant funding to support administrative positions as the organization established itself locally. The wide array of services that GiGi's Playhouse offers is unique in the community and supports several of the Foundation's goals, including:
Young people with intellectual disabilities are engaged in meaningful, social, vocational, and educational pursuits.
Families understand intellectual disabilities and secure needed supports.
Communities embrace persons with intellectual disabilities and provide them with opportunities to engage in community life.