Based in Northampton, The Center for Public Representation (CPR) is a nationally recognized legal advocacy organization that designs and implements systematic reform and initiatives to ensure people with disabilities can live in the community and exercise choice in all aspects of their lives. The organization is committed to equality, diversity, and social justice. The Center's legal director, Steven Schwartz; executive director, Cathy Costanzo; director of training and technical assistance, Kathryn Rucker; and litigation paralegal, Marcia Boundy, participated on the legal team for the plaintiff in the Rosie D. v. Romney case, which improved children's mental health services in Massachusetts.
In June 2021, a U.S. District Court in Massachusetts issued a ruling ending the landmark Rosie D. case. The ruling terminated court oversight of the Rosie D. reforms that affected more than 30,000 children covered under Mass Health. Rosie D. required that children with severe emotional disorders, autism, and behavioral needs receive timely assessments, coordinated care, home-based services, and effective crisis intervention. The U.S. District Court found the Commonwealth in basic compliance with the Judgement; however, the actual state of mental health services in the Commonwealth suggested the ruling was premature.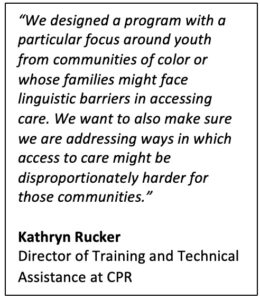 While improvements had taken place, there were still long wait lists for essential services, inefficient crisis interventions, and many instances of ineffective care. Hundreds of children were still waiting weeks or months for critical home-based services, in clear violation of the Commonwealth's own timeliness requirements. There were still young people being "boarded," or awaiting care in area emergency departments, and the COVID-19 pandemic had only increased the need for mental health services.
CPR is continuing its effort to safeguard the gains in mental health services achieved by the Rosie D. litigation through a three-year project funded by the Tower Foundation. The grant supports a network of legal aid agencies that provide support to families struggling to obtain mental health services for their children. The collective learning from these agencies' casework will shine a light on parts of the system that continue to underperform and suggest future policy and legislative strategies.
"We designed a program with a particular focus around youth from communities of color or whose families might face linguistic barriers in accessing care," said Kathryn Rucker, director of training and technical assistance at CPR. "We want to also make sure we are addressing ways in which access to care might be disproportionately harder for those communities."